This class has been cancelled.
Adult Mental Health First Aid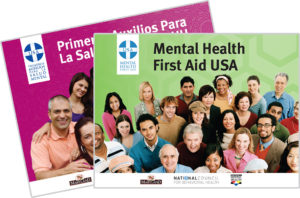 The  adult Mental Health First Aid course is appropriate for anyone 18 years and older who wants to learn how to help a person who may be experiencing a mental health related crisis or problem. Topics covered include anxiety, depression, psychosis, and addictions.
The adult course is available in both English and Spanish. Course participants come from a variety of backgrounds and play various roles in a community.
Instructors may specialize in providing the course to groups such as:
Public safety
Higher education
Military families
Rural audiences
---
This class has been cancelled.